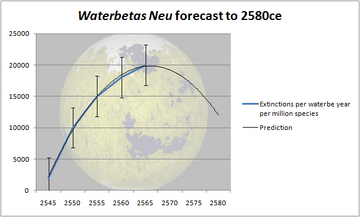 The Waterbetas Neu is a mass extinction currently occuring on Unistarch, caused by a combination of factors. The most major factor in this extinction is the rapid urbanisation and deforestion the Waterbe have undergone in recent decades. Some say it started at the very beginning of the Waterbetas, however most of the species impacted by it were affected after 2545ce.
According to aerologist and futurist Dilteme Crudidas, the end of the waterbetas neu is nearing and extinctions should fall to background levels as soon as 2595ce.
Ad blocker interference detected!
Wikia is a free-to-use site that makes money from advertising. We have a modified experience for viewers using ad blockers

Wikia is not accessible if you've made further modifications. Remove the custom ad blocker rule(s) and the page will load as expected.